High-speed shut-off electric actuators
The electric drive is designed for fast flow cut-off in technological installations or ESD systems.
Fill in the questionnaire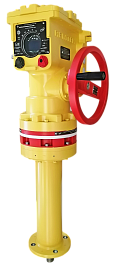 Characteristics
Designation:
Electric drive is used in ESD systems, safety circuits (SIL2) to control isolation shut-off or control pipeline valves.
It is used at oil gas facilities in explosive zones of class 1 and 2 in accordance with GOST R 60079 (in explosive zones of all classes), where may be formed vapor- and gas-and-air explosive mixtures of IIA and IIB groups T1, T2, T3, T4 as per the classification of GOST R IEC 60079-20-1.
Functions:
Bringing to a safe position function;
Analogue and discrete control;
Control and setting via interfaces;
Intelligent monitoring and protection systems;
Absolute electronic position sensor;
Nonintrusive set up;
No mechanical contacts.
Features and Benefits:
Cut off time from 0.2 sec for a ball valves of 90 deg;
Position regulation at low speed and fast cut-off when safety signal is on;
Compact size and monoblock design of the electric motor and electronic control unit;
Reliable, brushless, maintenance-free, synchronous electric drive with peak mechanical power up to 3 kW;

Energy efficiency due to the built-in frequency converter;
Highly reliable cycloidal transmissions and transmissions with intermediate rolling elements, ball-screw units;
High reliability and fail safety;
Self-diagnosis, built-in archiving of emergency events;
Embodiments provided with safe state function (NO/NC) with built-in energy storage on supercapacitors;
Supply voltage: 230 V or 400 V;
Partial valve stroke test (PST-test);
Functional safety SIL2.
Modifications
Modifications

Max torque, Nm


Supply voltage, V


Minimum overlap time, sec

Function (NO/NC)


RemTEK.P.125


37,5...125

400

0,2 / 1 / 3 / 6 / 9 / 12

Yes

230

0,3 / 1 / 3 / 6

RemTEK.P.250


75...250

400

0,3/ 1 / 3 / 6 / 9 / 12


Yes


230

0,4 / 1 / 3 / 6 / 9 / 12

RemTEK.P.600


180...600

400


0,8 / 3 / 6 / 9

Yes


230


1,4/ 3 / 6 / 9 / 12

RemTEK.P.1000


200...1000

400

1 / 3 / 6 / 9 / 12

Yes


230


2 / 3 / 6 / 9 / 12

RemTEK.P.2000


400...2000


400

3 / 6 / 9 / 12

Yes


230

6 / 9 / 12

RemTEK.P.4000


800...4000

400

6 / 9 / 12

No

230

10 / 12

RemTEK.P.8500


1700...8500

400

12

No


230

20 / 24 / 30

RemTEK.P.10000


2000...10000

400

16 / 30

No


230

18 / 30

RemTEK.P.16000


8000...16000

400

12 / 18 / 24 / 30

No


RemTEK.P.32000


6400...32000

400

18 / 24 / 30 / 36

No


RemTEK.P.63000


12600...63000

400

30 / 36 / 42

No

| | | | | |
| --- | --- | --- | --- | --- |
| Modifications | Max torque, Nm | Max speed at the gearbox output, rev/min | Move, mm | Function (NO/NC) |
| RemTEK.L.3500 | 3500 | 55/110 | 60 | Yes |
| RemTEK.L.7000 | 7000 | 55/110 | 60/100 | Yes |
| RemTEK.L.10000 | 10000 | 20/55/110 | 200 | Yes |
| RemTEK.L.18000 | 18000 | 20/50/90 | 100/160/200 | Yes |
| RemTEK.L.30000 | 30000 | 20/30 | 125/160/200 | Yes |
Gallery