TestTEK Mobile Diagnostics Tool
The mobile diagnostic tool TestTEK is designed to perform incoming inspection, testing of functional availability, diagnostics and adjustment of the following types of electric drives
Fill in the questionnaire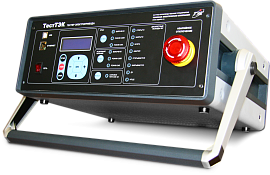 Characteristics
TestTEK carries out testing of electric drives with built-in or external reversible (electromagnetic, thyristor, transistor) converter of the following brands:
"RemTEK" produced by OOO NPP "TEK", Russia, Tomsk;

"EPTs", "EPP", "Atlant", "Angstrem" produced by CJSC "TOMZEL", Russia, Tomsk.

Auma, Rotork and foreign analogues.
TestTEK can also be used to test the performance of control and protection units and soft starters (BUZ-03M, ASTEK-02).
Main functions:
formation and control of signals of discrete control of the electric drive;

generation and control of signals for analog control of an electric drive (4-20mA);

generation and control of electric drive control signals via RS-485, CAN interfaces;

quick setup of the drive using built-in profiles;

power supply to the electric drive through a circuit breaker;

viewing and changing the parameters of the control unit via RS-485, CAN;


setting the mode of cyclic (resource) tests of the electric drive;
checking the engine temperature measurement channel;
storing settings (profiles) in the internal memory for working with another modification (type) of the drive;
self-diagnostics (checking the operation of indicators and buttons on the front panel, internal modules)
Modifications
| | |
| --- | --- |
| Nominal supply voltage, V | 380 or 220 |
| Power supply of electric drive, V | 380, 220 |
| Power of connected electric drive, kW | up to 7.5 |
| Number of discrete inputs to connect electric drive, pcs. | 8 |
| Number of discrete outputs to connect electric drive, pcs. | 4 |
| Number of analog inputs to connect electric drive 4..20 mA, pcs | 1 |
| Number of analog outputs to connect electric drive 4..20 mA, pcs. | 2 |
| Electric drive connection interface | RS-485, CAN |
| Communication interface to computer | Ethernet, USB 2.0 |
Gallery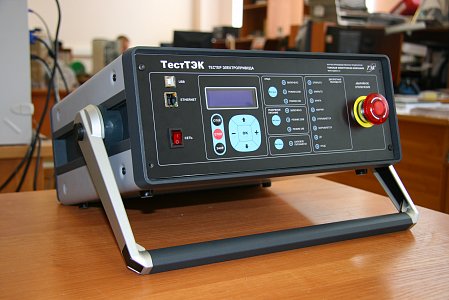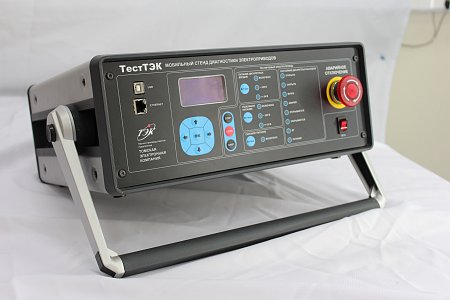 Application function
The drive control through discrete, analog and interface signals during turning short-term and long term operations
Control of electric drive signaling
Setting of the required flow chart to perform operational life testing
Visualization of the drive information on the LCD display and singular indicators
The drive operation parameters are displayed as trends (torque, speed, position)
Archiving of the test results including flow charts
Settings of register structure and discrete signaling functions for a certain type of electric drive
Storage of the data for further copying and fast putting into operation of the electric drives group